So... remember the ol' Alphabet Beanbags?
I started making them when I was pregnant with Olivia. We've pulled them out a couple of times before, but they really haven't seen much use.
Today's preschool time was another lame-and-low-key day since I'm super busy doing a bunch of last-minute things to get ready for our big Relief Society Christmas Extravaganza tomorrow. But I figured a little something was better than nothing. And basically everything we did was Olivia's idea anyway.
First we read some books she gave to me to read.
Then she started pulling out the basket of Alphabet Beanbags, so I decided spur of the moment that we'd play a little game.
Round 1:
dump out the basket of beanbags in front of Olivia
ask her to hand me one
say the name of the letter/sound the letter makes as I put it in the basket
Rounds 2-7:
dump out the basket of beanbags in front of Olivia
have a free for all where both of us toss the beanbags back in the basket
try to say the letters on the ones I throw in and whatever letters I can see Olivia throwing in
lather, rinse, repeat
Olivia
loved
this game. She and I both get the hiccups when we get hyper and giggley and, well, she had some major hiccups going on. Cute kid. Anyway, here's to another day of easy peasy preschool time. Hopefully next week I'll get a little better at planning ahead though. :)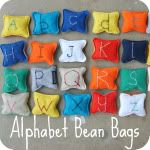 Click on the button above for the Alphabet Beanbag Tutorial
to make your own
(out of old t-shirt scraps)
_______________________________________________________________________
Find more fun and easy preschool ideas on the Preschool
page
. You can also find them by clicking on the Preschool button in the header. Enjoy!