Miracles happen! And you can help!
I have some wonderful friends who are hoping to adopt! If you know anyone who may be placing a child for adoption, please visit my friends on their blog to get in contact with them!
(Just click on the button below.)
So many prayers would be answered.
Richard & Emily
Emily and Richard are very good friends I've known since college.
Emily teaches kindergarten and Richard is in graduate school to become a physical therapist.
I love these two so much. I hope you'll visit their adoption blog
(click on the button below)
and do what you can to help them welcome children into their loving home.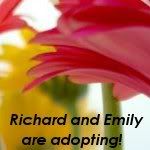 Thank you for your all your love and help!